[vc_text_separator title="IMPT….No Pokemon or other free play Jan 17 &18th!! Back the next week…" title_align="separator_align_center" color="grey" style="double"]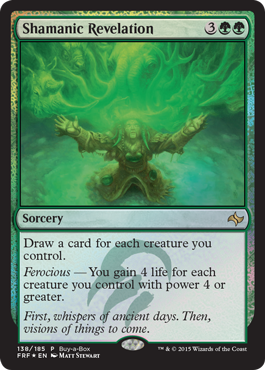 The second set in the Khans of Tarkir Block, Fate
Reforged, is on it's daily reveal of new spoilers leading up to the Jan 17th and 18th prerelease and Jan 23rd release, and it has us muttering the phrase, "Well that's just broken" over and over again with a concentration of some of the best cards we've seen in a magic set in years.
Boxes are available for preorder now at $99.99 this week, $105.99 after 1/13, 110.99 after 1/20, and $119.99 after release.  The Buy a Box promo for the first 30 boxes sold will be Shamanic Revelation.
This slideshow requires JavaScript.
Register for Prerelease.
Sat events usually sell out, and early registrants will get to pick which of the special clan packs they would like.  As usual, we will be doing casual (3 rounds, win a round win a pack) and competitive (4+ rounds with two rounds winning needed for a single pack, but 12 or more packs for the top winners, depending on the number of players.  Sun. at 3 will be a two headed giant team event.  All of the events will be sealed (build the best you can from 6 packs provided in the prerelease kits) and also as usual, fun is the main goal of the days. 😉