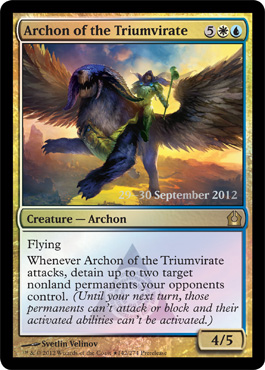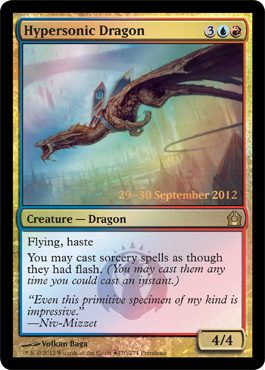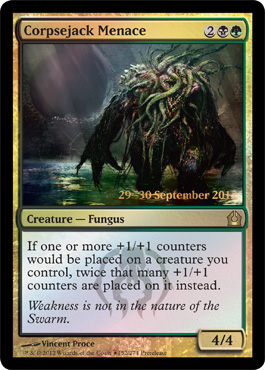 Welcome to the Return to Ravnica Prerelease @ D20 Games in Alameda.   The pre-releases are always fun, a chance to get the new set a week before, and play with a bunch of other folks who are playing with it the first time as well.  The new and very cool thing about this one is the introduction of the guild packs.  Rather then the standard 6 packs used to build a deck, there will be 5 packs, and one specific to one of the 5 Guilds that are part of the Ravnica story, (and some more cool stuff that is highlighted below.) This is  filling up faster than any event we've ever had and will be limited to 100 players, so really, don't wait.
When: Saturday 9/29/2012
First Event:  10:30 am doors open, deck building.  First Rounds start at 11:30am
Second Event: 4:15 pm Deck building,  First rounds start at 5:30 pm
NOTE: There will be kids and Adult brackets for both events.  Kids prizes will be more evenly spread out.
Event Type-Sealed:  Get 6 packs and make your best 40 card deck.  Opportunities to play at least 4 rounds.  Prizes determined by # of attendees.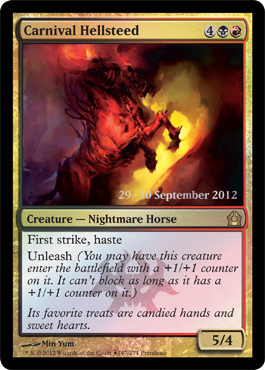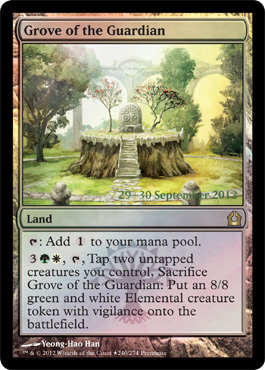 Cost: $25 entry fee includes a Guild Specific Pack-5 Return to Ravnica, one Guild Specific Pack and Guild promo card that you CAN use in making your deck this time…plus more (see below)
Pick your Guild
NOTE:  There are limited amounts of each of the 5 guilds choose one of five guilds to champion (Rakdos, Golgari, Azorius, Izzet, Selesnya) .  Players who preregister will get a much better chance of getting their first choice.  We will do our best to accommodate everyone, but at the end, the guilds will be randomly assigned.
Each Guild Prerelease Pack contains items designed specifically for the chosen guild.
5 Return to Ravnica booster packs
1 Guild Booster Pack
1 Promo Card
1 Achievement Card
1 Spindown™ Life Counter
1 Letter from the Guildmaster
1 Guild Symbol Sticker