Modern Masters League
Friday, December 1, 2023 @ 5:33 am

-

9:00 pm

$100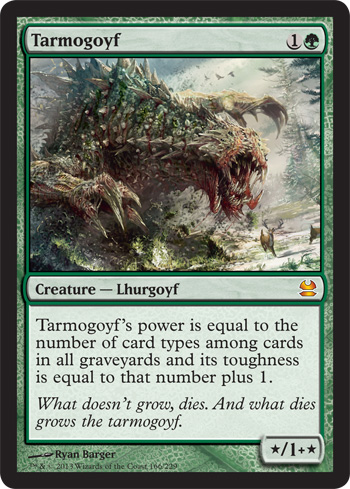 Modern Masters is coming out on June 7th, 2013.  This limited print set, brings back a number of the staples in the Modern Format, a style of magic play that uses cards as far back as 8th edition.  Generally, the larger pool of cards a format has to pull from, the more valuable the "best" cards are in that format, so getting into Modern unless you happened to be playing and have cards from that time can be an expensive affair.  The Modern Masters set was designed to let people get into the format without laying out the (too) big bucks.
The boxes come with 24 packs instead of the usual 36 and given the short print, the packs are likely to go for between $10-12 a pack, so, while this is a lower price then most of the packs that would have the cards in the set, its still not cheap. We've decided that since the supply is short, we'd rather make sure that everyone gets a chance to play with them rather than just selling off the boxes.  So we're going to do a League and a limited number of drafts.
League will be a 6 Pack sealed format starting on Tuesday, June 10th, and while the final price is TBD, Preregistration will be at $100 for the full 5 weeks(11 packs for $100…the best price we will sell the packs at.)  PLEASE do not just sign up to get the packs…we're offering this better price as a way of building up Tuesdays as our regular Modern day.
League works as an ongoing sealed, which means that after the first week, you get to add one more modern pack to your pool of cards.  Deck size is 40 cards minimum and you can play any cards you pull in the pool, without the 4 card maximum.  Extra prizes will be based on number of matches played with other league players.  There will be two final events..a two headed giant using cards from each players league pool (no mixing…pool card for each head only), and a special draft for the top 8 players in the league. (Since there will be a limited # of drafts, this will be a cool bonus.)  You may play up to 5 other players each week, and results must be signed by both players and turned in on or before the next Tuesday.  Each weeks league packs may be picked up any time on or after the new week begins on that Tuesday.)  When we have at least 8 people in the store by or before 6 on a Tuesday, we will do a tournament for the league players with a bonus Modern Masters Pack as the first prize.
FYI…when we do the drafts, they will be $35, with 3 rounds, a regular pack for 1 win, a Modern Master's pack for 2 wins, and 2 Modern Master's packs for going 3-0.