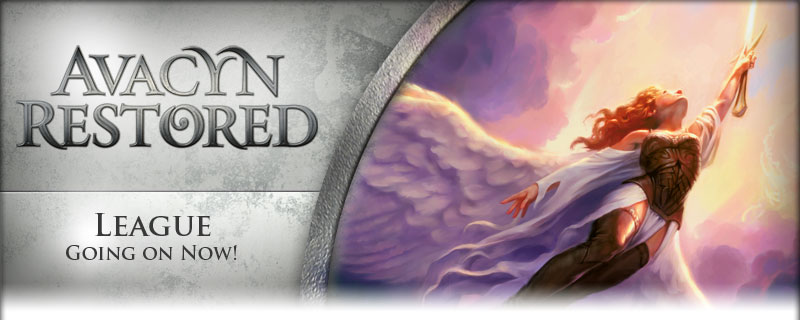 Welcome to the Avacyn Restored League at D20 Games.
What is it:  The league is an ongoing opportunity for casual competitive play starting the first week of Avacyn and going until the release of M13 this summer.
When: Formal League days are Weds, but matches may be played any time during the week.  Match results for each week must be received by the following Weds.
Cost: League costs $25 to enter (includes 6 packs) and $5 each week, including a pack for that week. (People buying fat-packs or boxes may opt to use 6 packs as long as permission is granted from staff.
Format: Sealed+ event
Start with 6 packs to build decks from, and get to add one pack per week
Packs must be opened in the store and the contents added to a deck list that is kept in the store.
Matches:
Each player can play up to 5 matches with other different members of the league each week.  (Matches beyond 5 will not count in that week)
Each player in a match will get 1 point just for playing, and the winner will get 2 bonus points in addition for a total of 3.
It is good sportsmanship to accept a match challenge from anyone in the league provided both players have enough time.
Matches may be continued over more then one day if there is not enough time to complete all the games at once, though an incomplete game is considered a draw game (it can be played over if both players choose.)
As long as one game is completed, both players will get the minimum 1 point.
Standings and Prizes:
Since we are not charging much more then the cost of the packs, prizes will be more in the fun and pride side then high value.  Having said that, there are some very cool posters that will be the top prizes at the end as well as a full set of the over-sized Avacyn Legends that were in the Helvault
Standings will be posted each week on the website.
Each player who has competed at least 3 matches in a week will be entered in a drawing on Weds for a bonus pack.
At the end of the time the point totals will be added up and there will be a playoff with the top 8 players.  The top 4 players will also get bonus entry's into the drawing for the rights to buy one of our From the Vault sets this summer.
As with most of our events, the goal is to play and have fun.  Everyone has a better time when we help each other out, pointing out missed triggers and plays so that we win by being the better players rather then by catching an opponent doing a dumb mistake or by not knowing how some part of the game works.