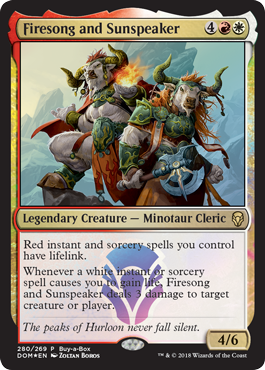 Buy a box for Dominaria is unique in two ways:
First 40 boxes sold include a buy a box promo card that isn't available in ANY OTHER WAY
Release Weekend Events for Dominaria 4-27 to 29th
Friday Night Magic Draft @ 7pm $15pp
Sat THG @ 4 pm using the Prerelease Packs (6 packs and two foil promo cards per kit)
Sunday 10 am Sealed with Remaining Prerelease kits
: $30 in advance and $35 at the door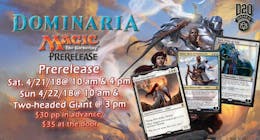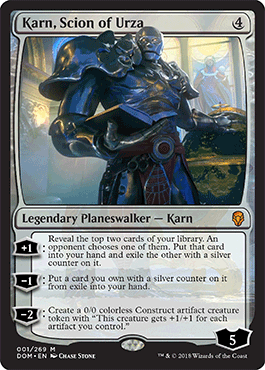 (Personal Note…been using Draftsim to do test drafts/sealed's of Dominara for the last week….this set is a BLAST!!-Ben)  Dominaria, is the homeworld of Magic..the place where it all began, so it's a special treat that when they decided to return to it for the first time since Urza traipsed around Time Spiral, that they invited a special guest to help with the set Design.  For those who weren't around when Richard Garfield created Magic, may know him better from the last major time he lent a hand, the deeply beloved original Innistrad block.  Now the legend is back to help with a set that is both literally and looks to become figuratively legendary.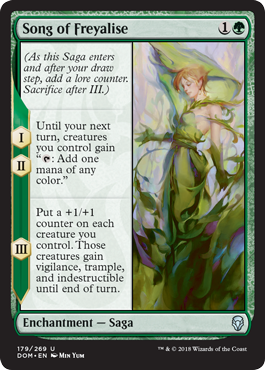 Sagas: The new set is all about the Legendary and includes a great new type of card called a Saga.  These are enchantments that tell their own story, by firing off a new "chapter"  over the 3 turns.  These are extremely interesting and pretty damn fun.
The Cards: https://magic.wizards.com/en/products/dominaria/cards
The New mechanics: https://magic.wizards.com/en/articles/archive/feature/dominaria-mechanics-2018-03-2