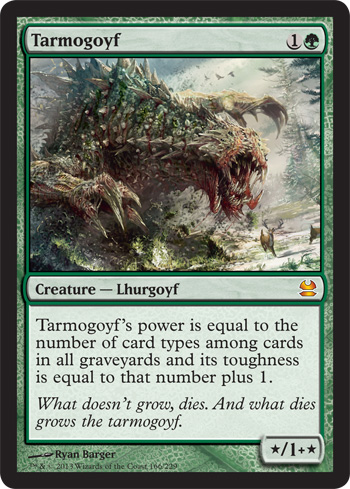 Modern Masters is coming out on June 7th, 2013.  This limited print set, brings back a number of the staples in the Modern Format, a style of magic play that uses cards as far back as 8th edition.  Generally, the larger pool of cards a format has to pull from, the more valuable the "best" cards are in that format, so getting into Modern unless you happened to be playing and have cards from that time can be an expensive affair.  The Modern Masters set was designed to let people get into the format without laying out the (too) big bucks.
The boxes come with 24 packs instead of the usual 36 and given the short print, the packs are likely to go for between $10-12 a pack, so, while this is a lower price then most of the packs that would have the cards in the set, its still not cheap. We've decided that since the supply is short, we'd rather make sure that everyone gets a chance to play with them rather than just selling off the boxes.  So we're going to do a League and a number of drafts.
League will be a 6 Pack sealed format starting on Tuesday, June 10th, and while the final price is TBD, we will let people preregister for $60 for the league start, or $100 for the full 5 weeks (getting one pack for free)
Drafts will be $35, with 3 rounds, a regular pack for 1 win, a Modern Master's pack for 2 wins, and 2 Modern Master's packs for going 3-0.