After weeks and weeks of epic battles with the website…(mostly with me losing)…things are finally looking a bit more like I have a clue!!  Lick the banana, it tastes like banana, lick the snozberrys, they taste like strawberries, and click on an event on the site, and it actually seems to get there.  (I know it seems like it shouldn't be that hard..that's what I thought too.)
So the Special Event fun for this week…
Pre-release for Pokemon Legendary Treasures on Saturday -register around 3-play at 4 going to 5:30–$30 (Cash) gets 6 packs plus bonus packs
Sat. Night at 5:30—First weekend of the month…Date Night Magic for well behaved kids 9-14…$15 per player plus $5 for pizza.
Sat. Night Starting at 6:30 (to 7) Ben's all time fav. set to Draft…Rise of the Eldrazi!!  Join Emerkul and the other Big Dogs of Magic for some great out of print fun…$40 pp and limited to 12.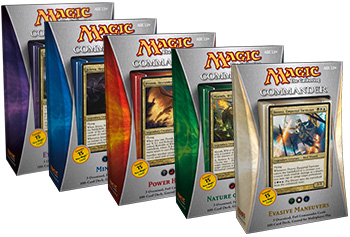 New in Stock and for sale on Friday...the 2013 Magic Commander decks…  These 100 card special decks feature great classic cards as well as some never seen before cards, including the first ever card with protection, not from another color or creature, but from a player!?!  For the first batches we have, we'll be selling them for $45 for each (except the Mindseize with that special card which is going for $65).  These are VERY limited, so if you want 'em, grab them fast.  Any player who buys 3 or more will get a Modern Masters Pack as a bonus.  $199 gets a bundle of all 5 and 2 Modern Masters packs.