OPEN THURS @ 10 for Midnight sales of Born of the Gods….
This week we have major releases for both Pokemon and Magic.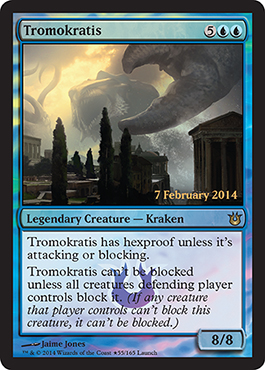 Born of the Gods release events this weekend.  We'll be open at midnight on Thursday night to sell fat packs, Boxes and Packs.  Friday we will be doing Triple Born of the Gods as the first release event for Friday Night Magic.  This weekend we will do a Two-Headed Giant on Saturday Night,  A Sealed on Sunday at noon, where the 6 packs used can also be the beginning of the new League.  Everyone playing will get the release promo card of Tromokratis for as long as supplies last.
For Pokemon, the new XY set just released.  This is the first new set of the XY series after several years of Black & White.  The new boosters, boxes,  and intro packs are on the way to the store as we write this… And we are doing a release event for XY Sat morning, starting at 10:30  Card list for Pokemon X/Y here.